Aloha! I know it's the end of the summer, but that doesn't mean that we can't look forward to our next holiday. Maybe you're already dreading the upcoming winter. Then I have good news for you! Here are some Yoga Retreats in Hawaii you might like to attend!
Yoga on Hawaii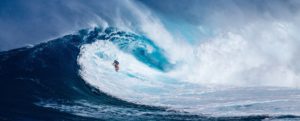 Ok, I know it sounds obvious to do some yoga on Hawaii, Tropical atmosphere, beaches, lovely nature. Why wouldn't I state the obvious? Well, the retreats that I'm going to talk about are not just any ordenary yoga retreats! They are distinguishing themselves by taking it a step further.
This means that you will get offered just a little bit extra than just yoga. Whether it's from yoga and surfing to getting a nice healing sound bath during your retreat!
On the map below you'll already see the spots that I've picked out for you.
Why Hawaii?
There are a lot of reasons of course why to go to Hawaii. First of all, the climate. Temperatures are quite steady, although there is a rainy season and a dry season. But even in the rainy season it can be quite enjoyable. This because most rainfall only falls during the night and on a retreat you're probably not gonna hit the club anyway. So, after a full day program you can just relax with a cup of tea hearing the rainfall.
That said, you'd probably like to know when the rainy season is. So the most rainfall to be counted is during the months December and January. With an average of 3.5 inches (about 90mm) per month. Those are also the coldest months on Hawaii. However, the difference just is a couple of degrees colder in comparison to the summer months of July and August.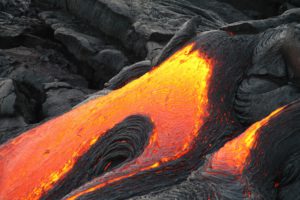 Besides the mild and sunny climate of Hawaii, there is a lot more to see. Hawaii has been formed by tectonic plates shoving against each other and became volcanoes. That together makes that you can have some stunning views if you are up for a hike on some of the volcanoes out there. If not, it's also nice to just look at them ;).
This is how the islands got formed, and something typical about an island is: beaches! Yes, there are beaches all over Hawaii, and because it's in the middle of the pacific ocean, it's also a surfer's paradise. If you're not up for it, there are also some other options that might suite you down here ;).
There are also a lot of protected areas on the islands of Hawaii, which means that you are going to be able to walk through pristine nature, where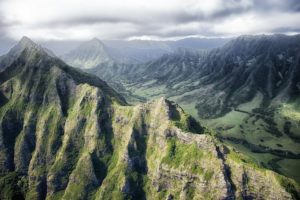 mostly also some trails go. Protected also means that they want to preserve the area as it is, so I just want to emphesize that you always have to leave everything as it was before you came, or even better (pick up some litter if you find some, for example).
The only note that I have to say, is that Hawaii can be quite expensive, it's an island, so they have to import everything from the mainland of the U.S. which elevates the prices. However, I always try to keep an eye on retreats that are completely all-inclusive (except for your plane ticket), to make sure the cost won't be to high for you.
If you decide to go on a retreat, then also read this article about how to prepare yourself! For US citizens: you don't need a travel passport to visit Hawaii!
That was a bit about Hawaii, now we are going on to the Yoga Retreats that I have picked out for you! Have a look and see if there is something there for you!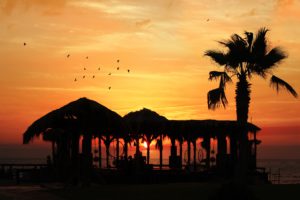 5 Yoga Retreats for You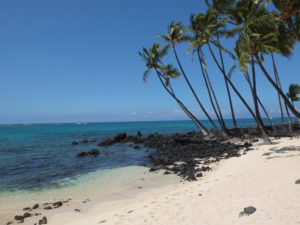 The first one on the list is a really special one that I have found for you. This is a completely new-fusioned style of yoga. Buddhifool World, or Buddhi yoga is a high paced style combined with dance and powerful movements. If you are looking for a real active holiday, then I'd definetly go for this one. The classes are thought by Felicia Lubertazzi who learned this style from the founder of Buddhifool.
So because of the high energy class of this style this retreat might not be for everyone. I wouldn't suggest it to people who are really going for deep relaxation. I would recommend it though to people who are active or want to lose some weight, or even people that are adventerous and don't like to stay in one place. Read this article here to see if losing with yoga is a myth or not.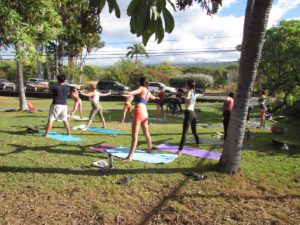 Not only is the style itself quite powerful, but you're not staying on one location! You will do some exploration of the Big Island, seeing some beautiful nature and doing some yoga at the same time.
The transportation of the whole trip is included (except for your flight ticket and initial transfer to the first accommodation). So is breakfast. Every day you will have either lunch or dinner on the house. This means that you will have to buy one meal yourself. I've mentioned before that I always try to see if there is an all-inclusive pack, this option doesn't really have that, but because of all the other things that are included, I couldn't leave this retreat out.
Click here if you'd like to see the full itinerary and how to reach this place if you decide to take this package!
Sorry fellas, but this retreat is a yoga retreat for women only! Don't be sad, just scroll on to the next on while I give some more details for our sisters here.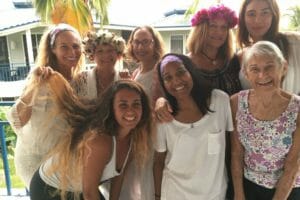 This retreat is for all the ladies who'd like to connect with each other and themselves on a deeper level. This means that there will be space to rejuvenate and to completely relax. Not only are there daily yoga classes, but there are also meditation classes and sound healings (optional).
Besides that, you can enjoy the daily optional extra activities like hiking, snorkeling, swimming and even discovering more about the Hawaiian spiritual customs (Huna teachings).
This retreat will be led by Diane Cline who has been a practitioner for over 37 years now. Her experience and guidance will bring you into a deeper connection with yourself. She will be mainly teaching Kundalini Yoga, which is a more spiritual type of yoga. She will also share her wisdom on philosophy and counsel you in the challenges you are experiencing.
For the meals: breakfast and dinner are included which are organic and vegetarian. Lunch you have to take care of yourself.
If you book this retreat now through the bookretreats.com platform, you will receive a gift! This gift is a 30-minutes massage and a free lunch package on the day of departure.
If you are ready to go into the depth of your sacredness with other women, click here for more information.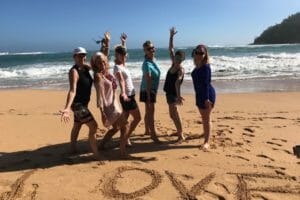 Lumi Yoga is offering a 7 day yoga and surf retreat in Waialua. They say that their retreat is for all-levels. So, if you have decided that you wanted to learn how to surf, this might be your opportunity!
Your instructors will be Reetta and Jykä Päällysaho, both owners of Lumi Yoga. They live in Hawaii and they are passionate about yoga and surfing.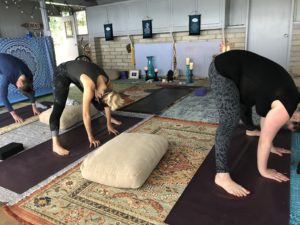 During this retreat you'll be getting a more powerful style of yoga combined with restorative yoga, which is a nice way to put your body up to the limits but at the same time also very relaxing. There will be 4 sessions per day. Which means that you will get a lot of yoga for the price that you are paying!
Besides that they also offer 3 surf classes and 1 art class during this week. The art class might be a nice addition as well, although I wouldn't book the retreat just for that art class. It might be a nice release for your creativity, but to really make a point I'd rather have a couple of classes.
Breakfast, dinner and snacks are included, which means that you will have to pay for your lunch. But for this whole package that you are getting that might be worth it, and if you are not that hungry during lunch time, maybe a snack for you will be enough then.
If you are ready to do some surfing and some intensive yoga sessions, click here for more information.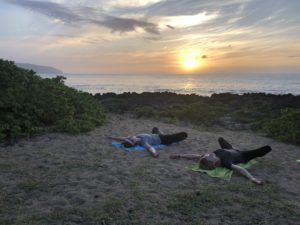 This retreat is actually one of my favorite retreats. It only got on the bottom of the list because of its length. The retreat Donny and Heather offer is just 4 days long, which for me (living in Portugal) doesn't really pursue me to jump on a plane and go to Hawaii.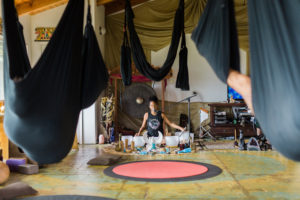 However, the program they offer is quite dense. And I mean this in a good way. In those four days time you'll get a lot in return. You'll be getting two-hours yoga and sound healing per day. Which doesn't sound like a lot, but a sound bath might go deep. Together with that they offer you a journal where you can write down your own inner journey.
Besides that you'll also get a Healing session from Heather, which is optional, but I'd do it anyway :D. And you'll get a coaching session from Donny.
In the accommodation there is an infra-red sauna and hot tub available as well as a mini gym. Plant based breakfast and lunch are also available.
If you'd like to know more or you want to give yourself a healing sound bath, click here for more information on this retreat and it's instructors.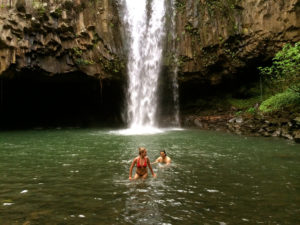 What I liked about this retreat is that it's not only very cheap to be in Hawaii, it's also an ecological center. This place has a lot to offer for those who are interested in yoga and ecology! During your stay here you will get all the meals and they are even organic. Because they are an off-grid center and they are self-sustainable, they grow most of their produce on the land.
And for a very affordable price, you'll be able to stay in a cabin for four nights. You'll be getting a yoga class every morning. And you'll be able to use the facilities on the property itself for your personal meditation or yoga practice!
This retreat center is highly unique and I recommend it, not for the classes, but just to heal yourself in nature with the surroundings they have to offer. For some people it might seem a bit too basic, but for others, it will look very luxurious. I applaud the fact that they've done a beautiful job here, with the cabins finished off into the details.
If you want to know more about this retreat, click here for more information.
Conclusion
That was it about yoga retreats on Hawaii! Still didn't find what you were looking for? Then try this link to see if there is something more fitting to you in Hawaii.
Do you have your own experience or do you want me to find the perfect retreat for you? Then please leave something in the comment section below!
And for now:
Nama-stay wonderful!