Previously I've written something about people who don't like or who don't have the time to go to a yoga studio. In my case, there aren't any yoga studios nearby. I've moved to Portugal to a very remote area and there are hardly any studios in the area, or at least not a studio that I would like to go to. That's why I love to use the www.yogadownload.com platform.
It takes effort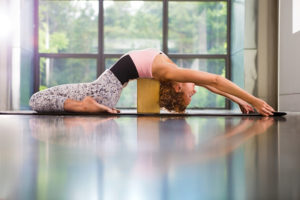 I do have to say that in order to start doing yoga at home, it does take some effort. At least for me, it does. There is no one there to say what to do in person, if you're not so disciplined there is always something else that's better to do, etc.
So, in the beginning, it might take some time for you to jump on the mat. But the moment you start getting in a routine, that's when you really start to enjoy watching the videos.
What I did in the beginning when I started using Yoga Download was having a fixed space for my mat, my mat would be there the whole time, staring at me, calling for me. Until there came a point where I was standing on it and starting a video.
It is a bit different though watching a video while you are doing your practice. You do need a good spot to put your computer, tablet or even tv in order to have a proper view on your screen. As no one will be telling you that you are in the wrong position, it's good to have something visual so you can correct yourself.
Creating a Home Space
There are a couple of things to keep in mind when you are doing yoga at home. First of all, it's a must that your space is suitable for yoga. This means: no clutter, no furniture in the way, no unnecessary distractions. If you have a spare room that you can use for your yoga practice, try to convert this one into a private studio.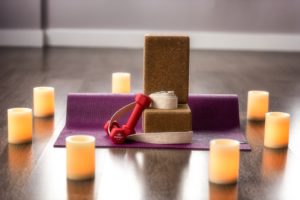 After that, create your own sacred space. Use some decorations that blend in with the room. Don't use things that are standing out too much. They will catch your eye and distract you during your routine. Which you don't want as this practice is for you and you alone. Candles, incense, small figurines or just a plant are all suitable for your room and even contribute to creating a relaxing atmosphere.
Temperature is also important. Try to have a room with climate control. During your practice, you won't be needing it, of course, but when you go into meditation you might cool down quickly. To prevent this, make sure you have some blankets stacked away as well in case you need them.
Yoga Download
As I mentioned, I'm using Yoga Download at the moment. They have much variety of classes and styles. They are there for the advanced yogi, but they're also there for the beginning yogi. They even offer some fixed packages if you rather don't commit to the whole monthly deal. But to be really honest, there is a $12 monthly fee, which is not that much.
If you'd only take a yoga class once per month it's worth checking out Yoga Download. A regular class these days costs about $15. Fair enough, for that $15 you get more support in a yoga studio then you would get from an online platform.
For the people who wanna do some yoga on the go and who don't have an infinite mobile data plan. There is also the option to download two videos per month within the $12 package, and an infinite amount of downloads in the $18 package. So if you often do yoga at the beach or in the forest then it might be nice to check out that package.
One more thing I really like about Yoga Download is that they also offer a wide range of music. As a teacher myself, I often create my own yoga classes and I only watch videos when I'm just feeling uninspired or when I just don't want to think about what next move I might take. But when I am in a flow it is just great to put on some nice relaxing music that fits with my mood and my yoga practice for that moment.
Conclusion
I'm not the person who is gonna recommend or not recommend someone. I'd just say that Yoga Download does offer some good things for people who are on the move, are very busy, who don't have time to go to a class, and more. They also offer some nice classes that you'd normally wouldn't find
anywhere else. They have some post-natal classes and they also offer some children's yoga. So for the busy parents out there, you can also just do yoga with your baby/kid, no more excuses! 🙂
That's it for now, if you have any questions or experiences with this topic, please leave a comment below!
And for now…
Nama-stay wonderful everyone!
P.S. Yoga Download offers now a trial period for $1 for 2 weeks!