This yoga mat I'd like to address to people who have some issues with their body. Problems going from arthritis to joint pain. This mat I've used myself when I was having serious issues with my knees and I seriously loved using it! It's an extra thick yoga mat made out of foam.
Extra Thick Yoga Mat
This is an amazing yoga mat for when you have some pain in your bones and joints. The extra thick mat made out of foam makes that you have the support that your body would need when it's experiencing pains.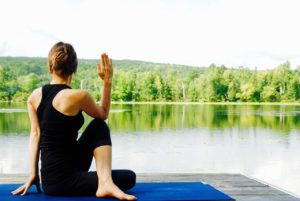 I wouldn't recommend this yoga mat for everyone though, if you're really serious about your practice and you want to do a lot of sun salutations, this mat will not do. But if you just had surgery, if you want to keep your body moving when you're having arthritis or something similar, then this is the perfect mat for you. I used it a couple of times as I was having knee issues myself, and a thin mat just wouldn't do, sitting on my hands and knees was excruciating. And also for when you go in Savasana this mat is really perfect ;).
There's not a lot more to say about this mat, it comes with straps already to put it back in and to make it easy to carry around, so that's quite convenient. However, it's not always that easy to roll up again as it is so thick. But with that said, it's quite a cheap mat so the price is definetly worth looking into it.
Recommended for:
– People with pains in their bodies
– Softer styles like hatha and yin yoga
– (sorry to say) older people as it also prevents serious injuries when you fall
Not recommended for:
– People who'd like to do balancing poses
– More flowing styles like vinyasa and ashtanga yoga