The Holidays are coming soon, and this year it will be extra "special".
we've all had a bit enough of this year now, and it might be time to take some time for yourself.
Then there's no better way than to go on a yoga retreat!
Of course, I'm only going to name 3 yoga retreats in this article, but don't be worried, there are many more.
Just click here if you'd like to see which other alternatives there might be available for you!
In this article, we'll be talking about yoga retreats in Europe. And I do have to mention that I strongly suggest you stay in the country where you are momentarily residing.
Just to make sure that you stimulate the economy of your home country. But also to make sure that you stay safe.
Of course, the choice is all yours, and let's have a quick look at some great Holiday Yoga Retreats for 2020!
Nr. 1 Surf And Yoga Holiday in Portugal
This first one is an astonishing yoga and surf retreat. And it's even one that won't break your bank at all!
The Itinerary looks great too. In the morning you'll be getting a yoga class. These classes are already surf-orientated. This means that you already warm up your entire body before you go surfing.

And in the afternoon you'll be getting your surf class. And you don't have to be worried about anything. Your transfers, classes, and material are all included in this price!

Alright, the price probably is quite low because it's also the low season. Quinta d'Anta and its retreats are available all-year-round and prices will differ if you wish to go at another time.

Another reason why the prices are so low, is because there's only breakfast included.

But don't be too alarmed about that. Portugal is quite a cheap country to go out for dinner or lunch. Normally for a meal, you'll be paying between €10 – €15 and that's beverages included (and sometimes even dessert).

Just be aware that Portugal isn't the most vegetarian-safe country. On the menu, you'll often find fish and meat.

Nevertheless, it's still an amazing offer that they've got here, and if you are into surfing, you have to visit Portugal.
Nr. 2 Christmas yoga retreat in the mountains of Italy
If the Holiday season isn't so much your thing and you'd like to escape a little, then this retreat will be something for you!
Within the mountains of Italy, you'll be finding this amazing retreat center. Escape the Christmas madness here and reconnect with yourself at the same time.
Haven't been convinced just yet?
Well, let's have a look at what they all have to offer.
I'm going to keep it real simple for you, they offer breakfast, a yoga class, and an amazing dinner.
This on its own doesn't look like a lot. However, be aware that the price isn't that steep, especially considering that you'll be getting a private room.
And on the premises, you'll find a sauna, a pool, and a gym. So, if you don't want to explore the surroundings, you won't get bored anyway.
If you do like to go and explore in your own time. There are many things to do around.
You could go for a hike, a horseback riding class, visit the local Sheppard to get some ricotta cheese, and many more.
You can even go into town to visit the local stores (and maybe get yourself a gelati!).
The retreat center itself lies between Napels and Rome. The best mean of transport to use is the bus to get to Sora. It's quite inexpensive and very easy as well. You can get there by train as well, but it might get a bit messy when you have to shift trains.
Nr. 3 Yoga Therapy retreat in Spain
What to say about this yoga retreat… Well, I've put it on place 3 for the price, but it's got the most included package.
Why place three? Well, not just the price, but also the fact that it's in a more tourist area. And of course, you might not mind that at all, so then imagine this is on the first spot!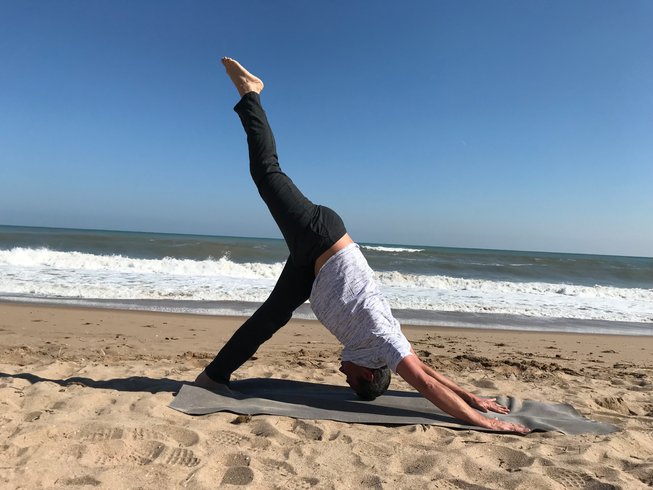 As I said, this is the most all-inclusive package of the three. There's so much to do, that it might look a bit too much. However, if you'd like to go very deep into your yoga and meditation practice, this is the one to go for!
There are three yoga sessions, two meditation sessions, AND two pranayama sessions, all daily.
So yeah, it might be a bit too much. But it might just be what you are looking for. And if not, it might be what you need. Just let it sink in a little.
On top of that, there's also a Tibetan singing bowl session. Which is amazing to combine into your practice. Just sit back and listen to the sounds!
At this retreat center, you'll also get three vegetarian meals. They are all included. However, if you'd like you can skip breakfast and go straight for brunch after your morning yoga sessions.
The location is not that far away from Valencia, so it's easy to reach. You'll also be very close to the beach, so don't forget to take a beach towel!
That's it again for these amazing yoga retreats in December! All of them are actually available all-year-round, so if you don't feel like traveling just yet, you can bookmark this page for later.
If you'd like to have more suggestions, you can have a look at this article from last year. There are still some retreats in there that are recurring this year too!
If I don't "see" you anymore in the next couple of weeks, then I'd like to wish you a merry christmas and a happy New-Year.
Make sure that you are enjoying yourself, maybe even on an in-ward journey. Don't let a little virus let you down.
And then all that rest me to say is:
Nama-Stay Wonderful!