When you are on a city trip, you might not be thinking about doing some yoga. However, keeping up your practice even while you are traveling might give you a lot of benefits.
Not only will you be able to keep your steady routine going on, you will also be able to meet locals. With them you can talk about some attractions that you might not have read about.
When I'm traveling I always love to go to a yoga class abroad. Alright, sometimes it's a bit hard if you go to a place where they don't speak English. But Atlanta is still in the States, so you won't have to worry about that.
And I always loved to connect to people that have similar interests. This way you'll learn about bars and restaurants where like-minded people are ready to mingle.
Let's have a look at some amazing yoga studios in Atlanta, Georgia!
5 Great Yoga Studios Atlanta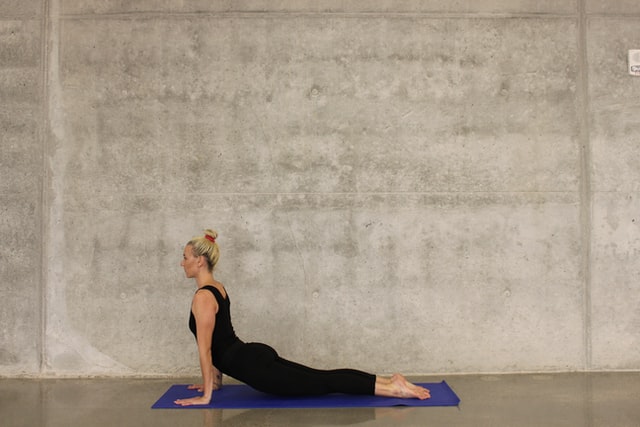 First of all, I have to applaud this studio on its magnificent name! And I have to say that they also live up to this quirky name.
This studio offers a couple of different yoga style, but with their own twist. You'll be able to do Vinyasa, but a more powerful version that is more focused on the muscle.
They also combine yin with power yoga, meaning that you'll have a workout and a cool down at the same time.
And for our worker bees, they also have a yoga class for busy people.
The only 'bad' thing I can say about this studio is that they don't have dance classes. But that's just my mind that felt that dancing dogs should have dancing classes too. So, no tango for me!
And then what I absolutely love about this yoga studio is that they really do welcome everyone.
At first sight it looks like a trendy and hip studio where only those hipsters can go to. But if you look closer, you'll see all kinds of different people.
Which is quite nice, because very often at studios in the city center, you'll find that it's just a trendy spot with trendy people. Which is not the case for this studio.
They are hip, without discriminating anyone.
Alright, I'm seriously not picking these yoga studios because of their names! Just to be clear.
But we all know that yoga sometimes can be tough love! And we often need it as well to be able to grow.
That said, they market their classes as affordable and they sure are. At this moment they are more online, but these classes will only cost you 12 dollars.
Here in this studio you won't be finding the tradition yoga styles. Not by name anyway.
They do have a lot of flowing classes to offer, so this studio is for those who are looking for a workout.
They also have specialised classes for yogis that are just starting out. They can go to the Yogahour 101 class!
Onlyoga for me please! This studio looks stunning and it focusses on people who'd like to go deep into their practice.
The styles they offer are vinyasa and ashtanga. Classes will be more vigorous, but often they are taken by people who'd really like to go that extra mile in their life.
This means that yogis coming to these styles, are often recurring customers from the area.
Which then again means that you can have a little chat with them and make sure you get to know the good places in Atlanta.
Another thing I'd like to add is that they also have some great workshops.
Even though they don't have a regular Kundalini class, once in a while they do offer it. Kundalini is the most spiritual form of yoga in the whole spectrum, so be sure that you've already done a couple of classes.
That is if you are traveling of course.
Another great thing they offer: Aerial yoga! I've already talked about some great studios that offer aerial yoga in Europe, but this studio has it as well.
Defy gravity in these classes and let go of all your fears!
If you are planning to go to Atlanta and you'd like to combine your city trip with an immersion into yoga, this is the place to be.
They do provide single yoga classes, for those who don't want to stay in this ashram. But it's good to know they also have an immersion program available.
As they are an Ashram, they are more traditional when it comes down to their yoga classes. If you'd like to have an authentic yoga class, I'd go for this centre.
Besides that, they also have workshops about meditation or kirtan. Even if you are not into yoga, you'll find something here that piques your spiritual interest.
Another great thing is that they focus on community. They don't only teach yoga classes in the ashram, but they also have projects like yoga classes in jail and they distribute food to the homeless.
In this centre you can also gain a bit of karma while you are staying in Atlanta.
This studio has more than 20 teachers and I'd like to include this studio as they offer more classes.
When you are traveling it's always hard to pick a class that suits you and your itinerary.
When you have more options, there are more possibilities and fewer reasons why you shouldn't take a yoga class.
Prices are looking quite average and they are good for people who'd just like a drop-in class. New students get their first class for free, but as a traveling yogi, it might be good to contribute to support the local economy.
This Yoga studio is very close to a park, so it's great to have a chill or just to relax after your yoga class.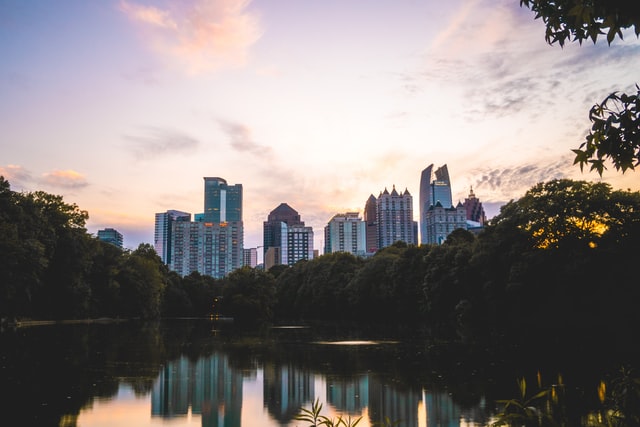 Where to eat in Atlanta?
The best way to get out of your class? Getting into a restaurant!
Here are a couple of choices for when you are hungry after your yoga class. I wouldn't eat here before though as this food might be a bit heavy on the stomach during your class.
These restaurants are vegetarian, to support your yogi lifestyle!
It's not really a vegetarian restaurant, but they do have a lot of great vegetarian and vegan options. I would say it's about 50/50.
Not just this, but they're also specialises in Gluten-Free baking.
The main reason why I picked this one is because it's close to Nirvana Yoga Studios.
After your yoga class, you don't have to walk too far. And you can even go here for a gluten-free bread after your yoga class.
The Mediterranean kitchen is known for its simplicity, yet delicious food. You can expect some easy food here, but seasoned to perfection. A must-go if you are really looking for some classic flavors.
Prices are alright. There is a big difference between some of the dishes, making it hard to go really on a budget. Some dishes will cost you 15 dollars, while others might cost 26.
When you're in Atlanta, you should taste some soul food of course. And this type of food is generally known to contain a lot of meat. But not at Soul Vegetarian!
The dishes aren't pricey at all, making it a great place to eat when you are dining on a budget.
When in Atlanta, you should really check out this restaurant. They do close quite early, so you might consider them as a brunch or lunch spot.
This restaurant is for our raw food lovers. Within the yoga movement there are a lot of people that are going raw.
It is known that when we heat up our food, a lot of the minerals and vitamins shrink together with your vegetables. Therefore, when you are eating raw, you keep all the goodies in your foodies.
Tassili's Raw Reality has a great choice available for you, and it looks all so deliciously served as well.
No regular salad here for you, but a plate looking like art which contains all of your daily needs.
If you are on a road trip, they also have free parking available!