The position of the woman has been changing drastically in the last decades. This is a good thing as awareness is coming that women are equal to men. We still have a long road to go, but I hope I will live to see the day that all over the world all women are equal.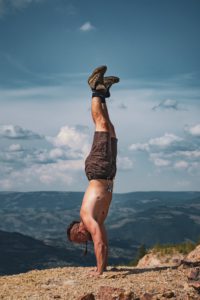 That said I'm not here to talk about women, but I want to talk about us men. This change in mentality also influences us. Because where does that leave us? For centuries, we have been made to believe that we have to be the provider of the family, the tough guy, the rational one, etc. But truth is, that we have a long way to go as well to even be equal to women in all kinds of aspects.
This is the reason why I've been looking at some yoga retreats just for men! To provide a space for some masculine sacredness and for men doing yoga. A safe space where men can discover who they are and what this new change of position might mean to them.
Mixed vs. Men's Retreats
You might wonder now what the difference is between men and mixed retreats. The big difference here is that it's not only about self-development as a person, it's also about self-development as a man. 
Women and men are facing different challenges when it comes down to spirituality. As you already know, we have both a male and a female part inside of us (energetically). This means that women mostly need to get in touch with their male side (rationality, strength, …). And that men, in general, have to get in touch with their female side (emotion, empathy, …).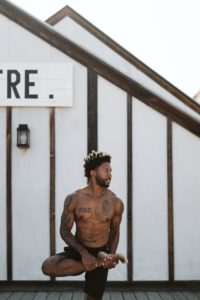 This is not something very static of course. Everyone is different and it's more about developing the aspects within you that you'd like to work on.
I would even suggest men to go on a men's retreat first. This is because you'll get in touch with your emotional side, and when you are with women you might still feel then need to hold back. This comes from the conditioning within men that we have to be strong against women
Qigong and Yoga retreat for men bali
This retreat for men will be 5 days long and you'll be staying here for 4 nights. Bali has a lot to offer besides the retreat, so it's easy (and not that expensive) to extend your stay a little bit if you'd like. It might also be nice to do this retreat when you are traveling through Bali and you'd like to have a little intermezzo.
Within those five days, the program is quite intensive, but that's what I like about a retreat. You won't only do yoga, but you'll also do Qigong, martial arts and some excursions! What I love about this small retreat is that they go deep. You won't only do the classes, but you'll also have some guidance during your stay. And I say guidance here rather than talks as guidance is going way deeper than just having a chat.
Retreats for men in France
May is an amazing month to go to France. There won't be so much rain anymore and temperatures will be rising. But not too hot, so it's still enjoyable.
At this retreat the alignment of the male body within the yoga poses is key. During a three day yoga program you'll be invited to deepen your practice. Within a group of men you'll be able to exchange experiences of your life as a yogi, or just in daily life in general.
Not just that, but you can also bond with each other over the things that are bothering you within society, in a very yogic way of course. 
Even when you reach this site after May 2022, this studio offers a Men's only retreat every year! And if they haven't planned anything yet, make sure to check there page for available men's only classes.