As I mentioned in my article about Tripaneer, the yoga school that I've been to isn't on the website anymore. However, I've found one of my former teachers on there as well, who has created his own yoga school with all kinds of programs. He's offering a 100-hour, 200-hour and 300-hour yoga teacher training. On this article I'm going to focus on the 200-hour Teacher Training.
Rishikesh
This Teacher Training will be taking place in Rishikesh. It's said that this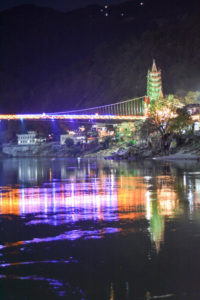 place is where yoga first "started". Hence, the reason why this is the yoga capital of the world. And also the reason why I'd recommend going there if you are considering a Yoga Teacher Training in India. You can find many yoga schools and classes there. If it's your first experience in India, I'd for sure recommend going here. It's a good mix with all kinds of nationalities and Indian people. So it's not a very big culture shock when you'd go here, but that might be nice for your first time in India.
Because there are so many foreigners going there, they're also used to serving food that is belly proof for Westerners. Although getting sick is also part of the Indian experience. It's almost inevitable. But don't worry, it's mostly not that severe and after a couple of days you'll feel better ;). Besides that, if you like Indian food, then this is also the place to be for that of course!
Because it's so touristic, it's also a bit more expensive. Although, paying 3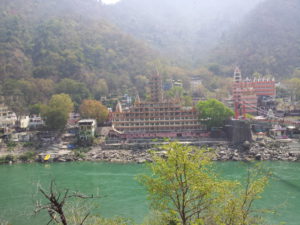 dollars for a meal? That's still not that expensive! And besides that, meals are included in the Teacher Training, so occasionally you'll have a pastry with some chai, but that's probably gonna be it.
200-hours Vinyasa Yoga Teacher Training
So, why the 200-hours Teacher Training? Because it's kind of the basic that you should have if you'd like to teach others. And even for yourself it's gonna be a complete immersion into yoga. Vikas is also offering the 100-hours program, but that's more for yogi's that already have done the 200-hours and want to proceed to the next level and achieve the 300-hours certification.
I think I need to explain a bit more about the certification progress before I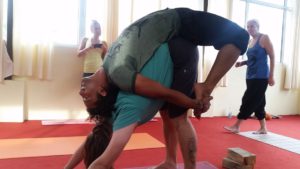 proceed. The certification process is mostly done through the Yoga Alliance. And although they've had a lot of criticism about them, they're still the biggest and widest-known yoga certification organization. The journey of a yoga teacher normally starts with the 200-hours. After teaching for a while and another teacher training, you could proceed to the 300-hour. After that you become eligible for the 500-hour.
To get some credibility I really recommend you go with a Yoga Alliance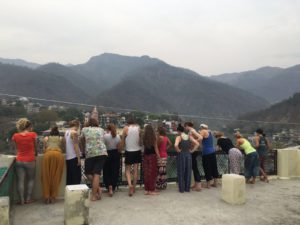 certified school first. The moment you have experience and get some followers before you sidetrack and leave the Yoga Alliance. I'm currently not licensed anymore, but then again, it's also not that necessary. There is no law that says that you have to be a member with them to teach yoga.
Vikas Rawat
This Yoga Teacher Training in Rishikesh is led by Vikas Rawat. I've mentioned before that he was one of my teachers at the Vinyasa Yoga School and I found him absolutely amazing. I do have to say, he's brutal. He will drive you to your limits and then he will push you even a bit further. I already hear you say: why would you go for classes with him? Well, that's because yoga is about testing your limits and expanding them as well.
His teaching techniques were astonishing and nothing that I've ever seen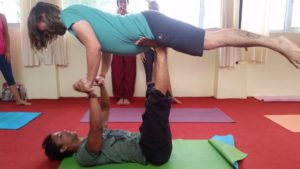 before! His hands-on adjustments were amazing and although I wouldn't do them myself, they were an eye-opener to see what is possible when you are teaching.
The only thing I hope is that he has improved his English a bit, because when we were doing our Teacher Training, his language skills were a bit poor. But I do believe that after four years and a lot of Teacher Trainings he has improved his English. And I hope one day that I could take a class from him again.
Vinyasa Yoga Shala
Time for some more practical information. The Teacher Training will hold place in Tapovan, it's a suburb of Rishikesh and it's a lot more quiet than the city Rishikesh itself, which makes it nice to retreat yourself into the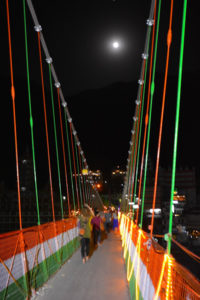 quietness and tranquility. Yes, India can be loud sometimes, but you get used to it. The downside of this is that it's a bit further away from other Ashrams and you would rather have to walk a bit more to see the ceremonies that are taking place in this spiritual location.
Tapovan is not that secluded, so you'll still find some restaurants and shops where you can eat and buy your souvenirs, and because it's a bit further away it's also a bit cheaper than going to Ram Jhula for example (another neighborhood with a lot of yoga ashram).
During the Teacher Training, Vinyasa Yoga Shala will provide three meals per day to get you nourished for the numerous yoga classes and other theoretical classes you'll be taking. The meals are completely vegetarian, because that's what the yogic scriptures prescribe. Which is also part of the detox process of your whole yoga experience.
Besides that there are also some excursions included within the Teacher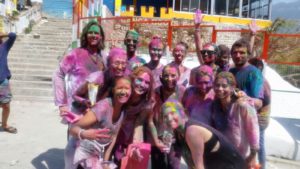 Training. It's really great to see this, because when you're doing yoga 5 or 6 days per week, there is not a lot time left to see something of the area. You don't want to wander around on your days off hoping that you'll see the best monuments and take the best trips. So I highly recommend them. I didn't do them myself during my Teacher Training, and sometimes I kind of regret it.
Here's an example of the daily schedule, but things can always be changed a little:
5:45 am Classical Hatha Yoga
7:30 am Pranayama
9:00 am Breakfast
10:30 am Yoga Philosophy
12:00 pm Alternate classes of Mantra Chanting/ Teaching Mythology/ Adjustment & Alignment
01:00 pm Lunch
03:00 pm Yoga Anatomy
04:15 pm Vinyasa Flow Yoga
06:00 pm Meditation and Relaxation
07:00 pm Dinner
If you'd like to know know about the schedule and the times of the course, click here.
How To Get There?
How you wanna get there is completely up to you. This might be a bit weird to say, you'd have to go on a plane for sure, but there are many ways to go to Rishikesh. First of all, you could take the train from Delhi to Rishikesh. I didn't do this myself, so I'm not quite sure how it works.
The reason why I didn't take the train is because I've read some stories that you never know when the train will arrive, your ticket might be bought by a scam artist, etc. So I never went for this option. Also, because I only had one day to arrive for the training and after the training I had to go right back home. So there wasn't a lot of time for exploring and to me it seemed like a bit of a hassle to do it by train.
Another option is going by taxi. That's the option that I choose when I went to Rishikesh. I looked on Google maps, the route only was going to take 3 hours they said there. Well, not with the traffic in New Delhi… It took us about 7 hours to arrive in Rishikesh. It wasn't that expensive, only 30 dollars per person, so that was fine. I've seen on the website that this course is offering a taxi drive for 69 dollars though, which makes it a bit expensive considering a train ticket is around 7 dollars.
This is why I opted for the next option to go back to Delhi, which is the plane. It's only a 30-minute flight from the local airport of Dehraduhn to New Delhi and it was only 40 dollars, even when I booked a flight only one week in advance. The only downside here is that national flights within India, you can only take around 30 pounds. Which is not a lot considering you go on a course for almost a month.
So these are the options, the best way for yourself is to consider what is the best option for you as every option has is pro's and cons.
One thing that I do recommend, is to stay a bit longer or come a bit earlier into India. For me it has been a bit short, just doing the training and then going back home again right after.. It's great if you could have some time to do some more yoga in Rishikesh, visit de Taj Mahal, going to an Indian wedding (there are plenty and I do recommend it massively!).
Conclusion
Going to India is an adventure on it's own, and if you are looking for a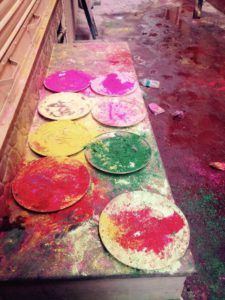 challenge mentally and physically, I'd definitely recommend this course. I've chosen to go to India to be closer to the source of yoga and it really did bring me closer to it. I do have to add as well, I'm really grateful that I went there and I loved every minute of it, but after that trip I don't feel like going back somehow. It was my dream to go there and that's something I accomplished. I did hear from a lot of people that they go back every year and they are completely in love with the country, so you never know ;).
That's it for now, if you have any more questions or comments you'd like to make on this article, please leave something below!
Nama-stay wonderful everyone!
Disclaimer: The pictures on this post aren't representing the course. they're images of my own Teacher Training (including Vikas) and I'm representing them here to give you a preview of what it could be like.