First of all, I have to be honest, this review might be a little bit biased as I'm working on the property that is holding the following yoga retreat ;). But then again, I thought, why not? I've been here for two years, I love the place and I love taking care of the retreats as well! Again, this is gonna be one of my other series of reviews I'll be giving. So far I've also been reviewing YouTube channels for those eager doing some yoga but don't have the time to go to a class.
Monte Maravilhas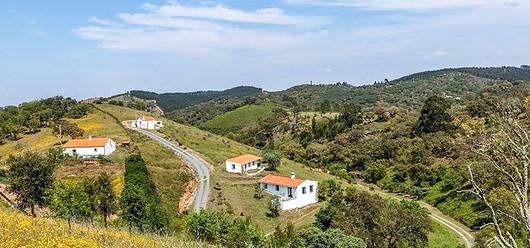 First of all, I'd like to start with the property of Monte Maravilhas, it's in Portugal, the area of the Alentejo. It's quite low-key with still a lot of nature. The owner (no, it's not me), is called Prem and she has been running the property for over 20 years now. She has three houses and a small one on the domain, a camping site, facilities for the camping site and she has a salt-water pool! And yes, I already relaxed in it A LOT ;). And besides that she also offers yoga retreats, hiking weeks, massage weeks and painting weeks! I had a lot of fun the past couple of years being a part of them and I'd like to share the yoga retreats with you here!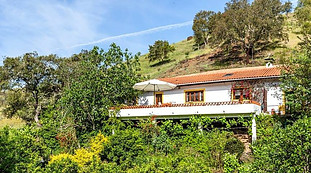 During the retreat you will probably stay in Casa Amarela or in Casa Mimosa. These two houses are suitable for up to 10 people altogether. This also means that the retreat will be with an intimate group. Max. 12-16 people, which makes it nice to connect to each other, but also to get personal contact with your teacher.
Yoga Retreat Alentejo
So from September 14th until September 21st we'll be organizing our yoga retreat. We are in the middle of the Alentejo surrounded by cork trees, eucalyptus, and on our property we also have a lot of fruit trees and even our own little vegetable garden. During this week you'll be getting three yoga sessions.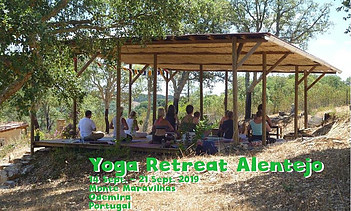 The yoga sessions are very versatile, typically in the morning you'll do more pranayama (breath work) to wake you up. Our teacher always comes up with something different to give you some more instruments to go home with. Which is nice, as yoga is not only about the poses.
During the retreat you will be served three vegetarian meals per day. During the dinner, after you're last session, we will also serve alcohol for those who want. It's not my personal idea of a yoga retreat as I'd be more into the soberness of doing it, but then again, the choice is yours. I do have to say that the location fits perfectly to sip on a glass of wine in the evening on the balcony.
The program looks something like this, but can be changed a bit according to the weather or other activities planned:
During the week there will also be a beach day so during that day there will be no yoga.
So, practically, you will arrive on Saturday the 14th of September and you'll be welcomed by one of the team members of course. During this day there will be no sessions as we want to give you the time to settle in and get to know the other participants of the week. From Sunday until Friday you'll be following the schedule, minus one day that you'll be going to the beach, and on Saturday it's time to pack again and after the lunch we will say our goodbye's.
Atul Mulji
During this week your yoga teacher will be Atul Mulji. A little bit about him:

"The lessons are taught by Atul Mulji and take place inside as well as outside. Atul Mulji is a yoga teacher and masseur. Almost 30 years ago he started practicing yoga in India. He has been trained at the International Sivananda Yoga Vedanta Center and followed several seminars and workshops. He runs a yoga and massage practice in Lisbon, Portugal. (www.montemaravilhas.com)"
How to get there?
Although we are a located a bit remotely, getting here is not that hard. If you are coming from outside of Portugal you can either fly on Lisbon or Faro Airport, there you can take a train to Funcheira (served 5 times per day) and then we will pick you up from the train station! It's also possible to rent a car if you want to travel on after you've finished the retreat (or if you're traveling before the retreat starts).
From Lisbon Airport it's about a 2-hour drive down here. And from Faro it's about 1,5 hour.
Conclusion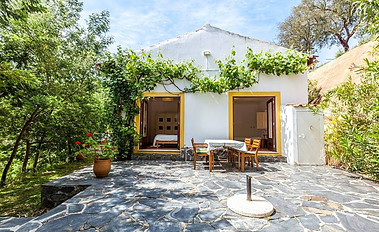 I truly recommend this retreat, even if I wouldn't be working here as well. It's because I'm working here I can even review this as I've done 6 yoga retreats so far on this location. Although sometimes I wished that I'd be giving the sessions instead of working so hard to satisfy everyone's needs ;).
But I've been blessed as well, as normally, I give some sessions as well when people ask for it. So that means that for the same price you'll get some additional sessions as well! So, if you'd decide to come and you see me there as well, don't forget to ask if I'd be open to give some meditation- or yoga session ;).
For more information on accommodation and price, I'd like to refer you to this website. Here you'll find some more pictures and you'll find more information on how to get into the location.
I hope I can share with you the love that I feel for this property. See you there! Or here, in my case.
That was it for now, please check regularly for some new reviews I'll be giving soon. If you have any more questions or suggestions, feel free to say hello down below.
And for now…
Nama-stay wonderful everyone!