Previously I've mentioned some good yoga mats already for beginners, but then it hit me that maybe it's also good to explain what you can expect from your first yoga class. It might be that some of you here might already have the idea to go to a yoga class and you might even have bought your first yoga mat already, but taking that first step to the yoga mat can be hard and intimidating sometime.
Even as a teacher sometimes it was hard for me to go to my first class in a new studio. The yoga world is growing and sometimes it might be even a little bit superficial, but please don't let that stop you from going. The only reason why you should be going to your first yoga class is only and just for yourself.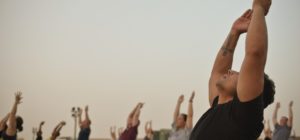 Intention
So as I mentioned above here, there are a few reasons why you could be starting off with yoga. It might be that you're in a job that's quite stressful and you need some relieve, it might be that you're having some issues with your body like joint pains, back pains, etc, or it might just be because you see that it's popular and you would like to give it a try. Those are all good reasons to go to a class.
You just have to set it straight with yourself and see what the reason is that you want to go, just to make sure that what you are expecting is in line with what you will be getting. There are numerous yoga studios out there and quite frankly, they're not gonna fit you all. With the growth of yoga also came a lot of new yoga styles and a bunch of new yoga teachers. So before you head into your first yoga class it would be good to check out the best studio/teacher that is fitting for you.
Yoga Styles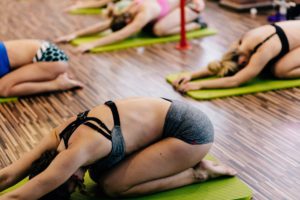 What are the different kind of yoga styles and what would be the best one for you? That's not always an easy answer as your mood, your body, your general flow, also changes.
I would always suggest going to a yoga studio where they have different teachers teaching in different styles, that way you could experience a bit for yourself what would be the style that would fit you best. After a while you'll find your favorite style and probably get hooked on that one :).
The softer styles you have within the whole yoga spectrum are good for people who have a high paced life and need some time to just sit still and relax. The yoga styles that would be suiting for you are for example yin and hatha. Yin and hatha aren't always (but can be) putting a lot of movement on the body and will make sure that your body can replenish after a very busy day.
If you are looking for the same relaxation but you also would like to give your body a little workout, then Iyengar yoga might be more suiting for you. For people who are burned out, are going towards a burn-out, then there is one more style that migth be really fitting for you, which is Restorative yoga. This one is in particular also perfect for people who are having a lot of pain in their body.
For people who are more looking for a workout and relaxation session, then Ashtanga, Vinyasa and Bikram will do. Expect some good sweat from this yoga class as they are quite vigorous and fast-paced. They're quite nice for people who are looking for their own boundaries and want a bit of a challenge. I always recommend it to people who also have mainly a sitting job as that quite often makes your body a bit unaware of it's own limits. Going into a flowing yoga class might help you to create a good blood flow and getting a better posture.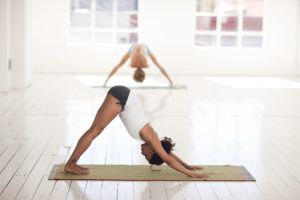 If you are more looking for the whole spiritual experience, of course they're all good, but then there are a few styles that are going to give you a better view on the whole philosophy of yoga as well. These styles include Kundalini yoga and Jivamukti yoga.
I'm not gonna explain all of these styles seperately as I think there will be also some information on the websites of the studios you'll be looking into.
Studio Hopping
In the search for the studio that might be best fitting with you, it might be good in the beginning not to stick with one studio. These days competition is hard, there are a lot of yoga studios and normally they all have a free trial, or they give a discount on your first classes. You'd really want to go to a studio that you really like and where you really feel comfortable. If there's a lack in one of those two, then don't be shy to move on to another one. As a yoga teacher myself it's hard to see someone leave your classes, but after a while you learn that you can't please everyone, that's just life.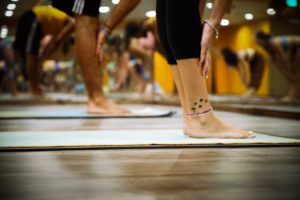 Some good things to also have a look at is what you really want. If you are someone who is rather shy and doesn't want to be in a big group, then maybe it's best to start in a smaller yoga studio where they have smaller groups going on. This way it's also nice to get some extra personal attention, especially the first time you go when they are throwing Sanskrit names at you that you've never heard about. Smaller yoga studios are good to give you more guidance and give you that little extra individual support that you might need.
If you're not afraid to perform in a crowd, it's nice to go to a larger studio. They're often less expensive as they're hosting larger groups, and it's nice to be part of a bigger community as well. To meet some new people, share experiences, go for a tea. You'll find that the yoga community in general is quite a soft one too with people really looking for deep relaxation. Most people are there for that purpose, so share with them, open up with them and they might come up with ideas for you as well.
If you're more of a nature person, then you're also quite lucky. As you only need a mat doing yoga, and because mats are quite easy to transport these days, made that a lot of teachers also offer classes in the park or at the beach. That way you don't have to worry that you're sweating as the open air will carry on your stench.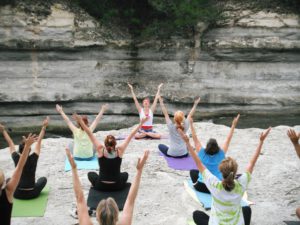 Also, if you're not into going to a studio at all and you'd rather don't want to participate in group, or the class' schedule isn't just fitting for you, then you can always decide to do online classes. There are very good programs these days to find online, where you can just be in your own pace, choosing the style you want, the teacher you want, etc.
Conclusion
There are a lot of things to think about before you go to your first yoga class. I've just given a few things you might want to think about before you go, just to make sure that you'll find that class that you will enjoy so much! What to expect during the yoga class? Well, that's up to you. Every person has their own expectations going on and I feel that when you can just go with an open mind, already trying out the style or teacher that fits you best, then that's the best guideline you can have for a very good class. I hope you'll enjoy your first class, feel free to leave a comment or question below. And as always:
Nama-stay wonderful!