So in my previous posts I've talked about which yoga style could be a better fit for you, which yoga mat, and more. Now it's the time to zoom in on yoga teachers and how to find the one that fits with you. I know, it looks like a lot to think about when you're starting with yoga, or even if you're already doing yoga, but I think that finding the teacher that really fits with you is one of the most important things there is.
Teacher Training
To begin with, look for someone who has done a teacher training. And not just any kind of teacher training. They don't have to be registered with Yoga Alliance, but it does help if they are registered with some kind of order that are providing continued education. It's not always that easy to look for that, but you can always ask your teacher questions about their teacher training and credentials. Normally they don't mind talking about it anyway as it should've been an amazing experience for them.
The training hours are also important to take a look at. If someone's standing there in front of you who only had a couple of hours of training doesn't compare to someone who had 500 hours of training. Of course there are always teachers who are just starting their career and they should also be encouraged by getting some students. You'll feel when a teacher is really motivated and it's also actually nice to see how beginning teachers are developing themselves over time, so if you find someone who's just starting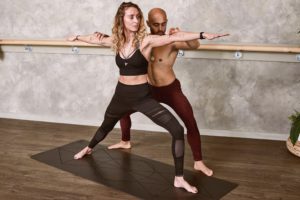 off and that person feels nice and motivated and foremost, has a good intention, then go for it. I wouldn't recommend going to a class with them if it's your first time though. I remember my first classes which were free of charge in the studio where I taught. Although people came to them, I have to say that they weren't my best classes. And the nerves were killing me as well (yes you can still be nervous as a yoga teacher).
What to look for in a good Yoga Teacher?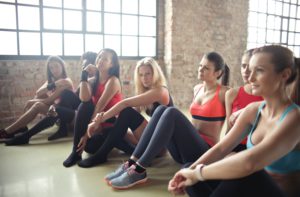 Besides a teacher training certificate, yoga teachers should have a couple of qualities too. First of all, they should've lived the yogi lifestyle. There are some teachers around that just thought: "Hey, yoga is hyping, let's take a training and start teaching yoga." It's okay to earn some extra money and I'm not gonna judge them about it. But it's just better when you find someone who's really passionate about yoga.
Another quality that I like about a good yoga teacher is the fact that they have taken it upon them to transmit the inner calmness that they have experienced during their first years as a yoga student. I think this might be the best quality to have as a yoga teacher. It's a bit like a missionary who wants to transfer the word of God, but then yogi-style. It's easy to find a teacher like that, as most people have started like that. They experienced the relaxation and the calmness yoga brought to them and now they want to offer others the same.
What's also a good trait in a yoga teacher is the way they teach. For beginner students, look for someone who gives hand-on adjustments. When you're new it's hard to feel in the beginning what muscles you should be feeling in your body. Might sound a bit weird, but you'll get what I'm talking about the moment your teacher adjusts you! There are some teachers that choose not to do hand-on adjustments anymore as it's not always easy to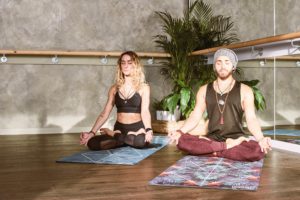 know who likes it. Normally they would give proper and clear verbal instructions for you. The latter is also a good quality of a yoga teacher. It's important that a yoga teacher is very clear with its instructions for you to understand what you actually should be doing. If not, it's not only gonna have any effect at all, it's also gonna look quite weird.
What also is quite important when you are giving instructions, is your voice. I know it's a bit objective, but having a teacher with a nice voice is also a big plus. I know that some people can't just help how they talk, but it's so important that you can transmit the message that you are trying to give. If you're having quite a low-pitched voice and you have to lead a big group, the ones in the back aren't gonna hear the instructions at all.
It's hard to know when you've found a good teacher, but I have to say that in my experience I haven't come across a lot of bad teachers. It's just important that you find yourself someone that you feel good with and that you thrust completely. If you are going into a handstand and you don't feel comfortable doing it alone, you want someone you can rely on.
Online Classes for Beginners
In my previous article I've talked a bit about an online platform to do yoga at home and online. I think it's still a great way to start off with your yoga practice, although I'd like to add that if you are a complete beginner you'd rather be better off going to some classes. This way you get acquainted with the yoga terms, which sometimes can be a challenge as there are a lot of Sanskrit names, and they all look the same in the beginning. Besides that, it's also helpful to have a teacher standing in front of you when you are just starting off. If you don't have the time though to go to a class, then this platform is the right fit for you and you have even a beginner's series where they will teach you everything.
Another nice thing about these online classes is that you can take classes with teachers from all over the world. Maybe even someone you'd like to take a class from, but which just isn't possible as they are living on the other side of the world. This way the teacher comes to you, just not that physically.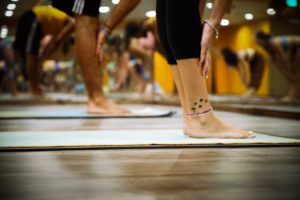 Conclusion
That was it for now. The three qualities I've mentioned above aren't the complete list of what a yoga teacher should have, but to me they are the most important ones. If you have any more questions or you'd like to talk about your teacher, please leave a comment below.
Nama-stay wonderful everyone!